Find out more about Masa-LithoPore®
1. What is Masa-LithoPore®?
Masa-LithoPore® is a mineral building material that is processed into a vapour-permeable thermal insulation panel.
Masa GmbH concluded a cooperation agreement for the development and manufacture of Masa-LithoPore® with Luca Industries International GmbH, one of the leading companies in the field of development and production of bio-technological and chemical substances.
As of 14th January, 2015, the development phase could be completed with the issue of a general technical approval by DIBt (Deutsches Institut für Bautechnik, German institute for structural engineering).
Under the brand name Masa-LithoPore®, both cooperation partners together offer a complete system for the manufacture of thermal insulation panels.
2. Advantages
Masa-LithoPore® products can replace conventional insulating materials, such as expanded polystyrene (EPS) or mineral wool.
The insulation values reached are well comparable to those of other thermal insulation boards.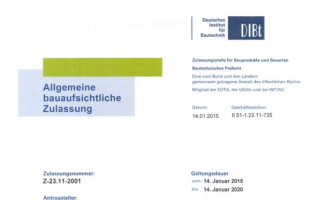 The main advantages are:
mineral material
noncombustible (building material class A1)
vapour-permeable and capillary active, thus suitable for interior insulation (without using a vapour barrier)
environmentally friendly and easy to recycle
easy handling on the building site
DIBt approved
3. Product specification sheet
The precast thermal insulation panel according to the Masa-LithoPore® technology has the following technical and physical qualities:
Standard products:
| | Masa-LithoPore® 75 | Masa-Litho-Pore® 150 |
| --- | --- | --- |
| Dry raw density DIN EN 1602 [2] ρ105 °C | 5 - 85 kg/m³ | 140 - 155 kg/m³ |
| Thermal conductivity DIN EN 12667 [13] λ10, tr | ≤ 0,0398 W/m*K | ≤ 0,0518 W/m*K |
| Compressive strength DIN EN 826 [4] σ10% | ≥ 40 kPa | ≥ 220 kPa |
| Tensile strength DIN EN 1607 [5] σmt | ≥ 10 kPa | ≥ 20 kPa |
| Bending strength DIN EN 12089 Methode B [6] σb | ≥ 10 kPa | ≥ 60 kPa |
| Water absorption DIN EN 1609 [9] Wp, 24h | ≤ 3,5 kg/m² | ≤ 4,5 kg/m² |
| Behaviour in fire DIN EN 13501 | class A1 | class A1 |
| Vapour permeability DIN EN ISO 12572 [10] μ | ≤ 3,0 | ≤ 4,0 |
Product size:
| | Dimension |
| --- | --- |
| Length: | 600 mm |
| Width: | 400 mm |
| Thickness of the thermal insulation panel: | 100 to 250 mm |
By means of hydrophobizing, the water absorption of the product can be reduced considerably.
For further information please see the Masa-LithoPore® product specification sheet .
4. Manufacture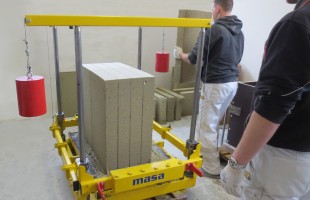 Masa-LithoPore® consists of water and additives. In addition, water is required for the manufacturing process. In a two-stage procedure, the basic materials are mixed homogeneously and fed into casting moulds. The filled casting moulds are then transported to the pre-hardening area. When the cakes have reached green strength (cutting strength), the casting moulds are removed and the blocks are cut to the size of the thermal insulation panels in the cutting line.
The cut cakes are placed on hardening cars and transported to the post-curing area. Before they are packaged, the surfaces of the individual thermal insulation panels can be hydrophobized.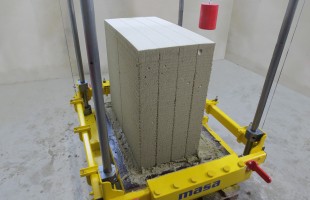 A high-quality thermal insulation panel requires smooth handling. Therefore, the finished product has to be packaged in that way that it is protected from dirt and moisture before it is removed from the factory. Depending on the plant concept, this packaging process can be carried out automatically or semi-automatically.
Many plant components required for the manufacture of thermal insulation panels resemble those Masa machines that are used for the manufacture of aerated concrete.
Plant capacities:
| Shift operation | | |
| --- | --- | --- |
| One-shift operation (8 hours) | 150 m³ | equals 1500 m² with a thickness of 100 mm |
| Two-shift operation (16 hours) | 300 m³ | equals 3000 m² with a thickness of 100 mm |
| Three-shift operation (24 hours) | 450 m³ | equals 4500 m² with a thickness of 100 mm |