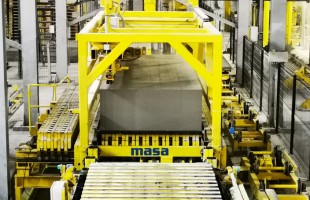 The Masa separating machine for "green" products (green separating table) can optionally be integrated at the end of the cutting line. It prevents the block rows from sticking to each other during the autoclaving process.
The bearing beams of the separating machine are made of solid steel plates which means a high stability against bending. Thus, the Masa green separating table is perfect for high-density as well as reinforced products.
Considering the facts, the Masa green separating table that is designed for a production capacity of 2000 m³ per day convinces with its smart technical details.
Some advantages at a glance:
Optimized cycle time by simultaneous movement of the bearing beams back to their initial positions
Variability due to diverse possibilities to determine the clearances within a specific cake
State-of-the-art measuring technology for an exact positioning of the cake and supervision of the travelling movement
Clever control concept
Individually adjustable cleaning process by means of integrated brush for the bearing beams
Safe access for cleaning and maintenance purposes