Masa washing unit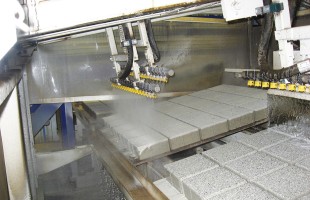 The Masa washing units are very well suitable for surface finishing of the fresh products. Fine particles of the aggregate materials as well as the cement residue are removed by a combined spray and splash process. With this, the high-quality visual effect of the face material is emphasized. The product results in a unique appearance.
The Masa 3-station washing unit is equipped with:
individually adjustable nozzles
setting options for water pressure and travel speed
two high-pressure nozzle bars (with oscillating movement of the nozzles)
low-pressure nozzle bar and splash water bar for removal of the cement residue (rinse function)
compressed air nozzle bar to blow off the remained water
fast exchange device of the single nozzles or the nozzle bar.
Alternatively Masa provides as well a 2-station washing unit.
Do you want to read up on further plant components?