The heart of each plant is the Masa concrete block making machine.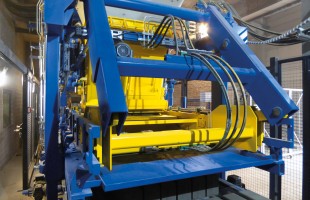 The Masa standard models convince with sophisticated and well engineered technology. Decades of experience and continuous further development flow into this model range. Our strength: In close dialogue with our customers, we focus on defining and implementing new standards in line with market requirements.
The Masa L 9.1 as well as XL 9.1 / XL 9.2 are fully automatic machines for the production of concrete blocks with or without face mix layer (e.g. hollow blocks, pavers, kerbstones).
The machine consists of the main components main mix filling unit with filling box, face mix filling unit with filling box and compaction unit:
Concrete is filled evenly from the storage silo of the block making machine into the main mix filling box. The filling box moves into the compaction unit and fills the mould with main mix concrete. The actual stone forming process takes place in the compaction unit. In the second step, a second concrete layer is added. This so-called face mix can have a different color as well as a different mix composition compared to the main mix layer. The compacting of the concrete takes place through a vibration process with special vibrators.
Along with other components, a production pallet magazine and a pallet feeding device complete the production process.
Features
L 9.1

The standard scope of supply includes, among others:

reinforced frame construction to carry the one-piece vibration table
frequency controlled vibration
recipe management, fault diagnosis and visualization of the functions by PC and 24' TFT monitor
proportional controlled valves for pump pressure and main drive
hydraulic unit with components of high standard manufacturers

XL 9.1 / XL 9.2

The standard scope of supply includes, among others:

amplitude or frequence controlled vibration
energy-efficient drives
proportional pressure control for hydraulic
solid frame construction with 4 hard-chrome plated guide columns (ø 120 mm) for exact parallel positioning of the mould and compaction head
forced synchronous mould guide for precise demoulding of products
level measurement for silos with weighing cells
machine visualization by Masa FAST-application control in different versions
hydraulic compaction head lock
cost-optimizing spare part management
Options
L 9.1

Optionally available are e.g:

amplitude controlled vibration
automatic mould change
integration of a height limit system for an accurate height control
sheet/profile pulling device
different sizes of production pallets available upon request
possible implementation of customer special requirements upon request

XL 9.1 / XL 9.2

Optionally available are e.g:

automatic mould change to optimize set-up times
amplitude monitoring of the vibration table
integration of a height limit system to ensure an utmost production height
frequence controlled dosing belt for feeding the filling box
sheet/profile pulling device
core pulling device for the production of profiles in the products
hydraulic driven smoothing roller
bottom slide (face mix filling box)
hydraulic unit integrated in sound insulated container ("Hydrautainer")
laser level measurement in the main and face mix concrete filling box
cross cleaning device
styrofoam inserting device
Do you want to read up on further plant components?