Amongst others the future lies in colored concrete.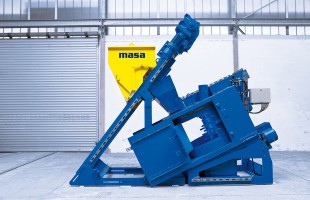 Therefor the product range of Masa comprises the special face mix mixer type "S 350/500". The rotating and inclined by 20° mixing trough in combination with a stationary twister distinguishes the mixer. The result: A flawless, homogeneous and agglomerate free mixing structure!
Especially for the production of face mix concrete Masa provides the concrete mixer type "S 350/500".
The Masa concrete mixer type "S 350/500" is equipped with the following features:
rotating trough and stationary twister as mixing tool
twister driven by low-wear toothed belts
frequency driven mixing trough
mixer with aggregate hoist
equipment incl. scraper for cleaning the sidewall of the mixing trough
trough discharge with pneumatic controlled discharge opening
mixing trough with exchangeable bottom and side plates made of stainless steel
humidity probe with radar technology in the side scraper
exact water dosing by "Aquados" dosing system
passive mixer dust removal "airbag" (active mixer dust removal "DustCollector" optional)
additional infeeds for e.g. color or additives
frequency driven mixing tool (optional)
Masa concrete mixer "S 350/500" is dimensioned as follows:
| | S 350/500 |
| --- | --- |
| Max. dry filling quantity (in liter) | 500 |
| Max. filling quantity (in Kg) | 750 |
| Output (in liter) | 350 |
| Power rating of twister | 37 kW |
| Power rating of rotating trough | 11 kW |
Do you want to read up on further plant components?