The heart of each plant is the Masa concrete block making machine.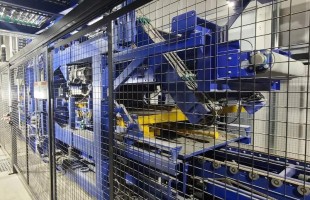 The new premium model of the Masa concrete block making machines is available in three different sizes and was successfully presented for the first time at Bauma 2019 with many technically convincing details.
Masa concrete block making machines type "XL-R" are fully automatic machines for the production of concrete stones with or without face mix layer (e.g. hollow blocks, pavers, kerbstones).
The machine consists of the main components main mix filling unit with filling box, face mix filling unit with filling box and compaction unit:
Concrete is filled evenly from the storage silo of the block making machine into the main mix filling box. The filling box moves into the compaction unit and fills the mould with main mix concrete. The actual stone forming process takes place in the compaction unit. In the second step, a second concrete layer is added. This so-called face mix can have a different color as well as a different mix composition compared to the main mix layer. The compacting of the concrete takes place through a vibration process with special vibrators.
Along with other components, a production pallet magazine and a pallet feeding device complete the production process.
Features
XL-R

The standard scope of supply includes, among others:

Amplitude controlled vibration
Servo hydraulics with pressure accumulator
Energy-efficient drive concepts
Mould leveling via servo hydraulics
Automatic mould change to optimize set-up times
Magnetic clamping of the filling box running rails
Laser-controlled, repeatable and exact filling of the filling box (main and face mix)
Hydraulic compaction head lock
Servo controlled production pallet feed
Servo controlled lowering rocker synchronized with pallet feed designed as V-belt conveyor
Options
XL-R

Optionally available are e.g:

Amplitude monitoring of the vibration table
Oscillating grate drive (main mix) via hydraulic eccentric drive
Core-/sheet pulling device for the production of cavities in the products or to achieve extra smooth surfaces resp. profiles on the bottom side of the products
Face mix filling box with driven bottom plate
Hydraulically driven smoothing roller
Special design of the face mix filling unit (prepared for multi color system)
Main mix silo with 2 separate outlets
Dosing / filling belt
Various software tools
Do you want to read up on further plant components?