Data backup
in sophisticated manufacturing plants
Machines and production plants for manufacturing concrete blocks and pavers have developed enormously in recent decades, both in terms of their complexity and their technology. Understanding the current status of individual components or assemblies is becoming an increasingly challenging task in modern plants, as more automated processes means more potential sources of problems. Many components are subject to wear and can cause defects. PC's, PLC's, and other electronic components are particularly affected by aging and wear.
Masa Smart BackUp
One of the possible causes of failure in industrial computers is, for example, the failure of hard disks. In this case, nowadays there is no need to lose any recipes or process data that you have developed intensively! Our fully integrated solution for this worst case scenario is called Masa Smart BackUp.
What is Smart BackUp?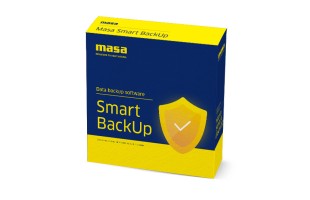 To reduce the associated loss of data, Masa is integrating so-called NAS (Network Attached Storage) systems into production plants. The system, named Smart BackUp, is a backup station equipped with four NAS hard drives. The desired data redundancy is achieved by backing up all relevant plant data on two pairs of hard disks each. In the event of a hard disk failure, the data can be restored from the other hard disks. The backup includes the recipes and product data acquisition database of the production plant as well as all control programs required for automation. The coordination and execution of the fully automatic backups are handled by the Masa Smart BackUp System, which is always active in the background. Restoring the data in this way can easily be done online by Masa technicians.
---
Masa insights - Markus Feix
Markus Feix has been working as an engineer at Masa GmbH since 1995. As head of the Customer Training and Service Hotline department at the Andernach site, he is responsible for reliable "first aid" in case of technical malfunctions at our concrete block production plants as well as further fault diagnoses when things get "stuck".
View the LinkedIn post about Markus Feix...
Our expert in a CPi interview
Our expert also spoke in an interview with CPi editor Mark Küppers about the great importance of data backup in production and Masa Smart BackUp as a convenient solution.
Read the interview with Mark Küppers...